Take this time to start exploring your future adventures!
What are You Doing in 2021?
05.25.2020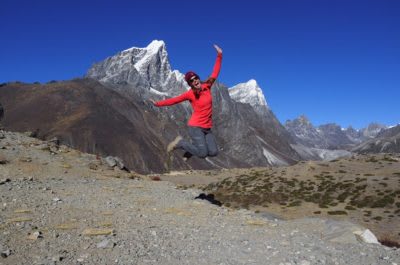 Now that we've all had our fair share of ice cream and binge watching the Tiger King it's time to start using our time a little differently and planning our next big adventure.
We've got some amazing new (and some tried and true) set-departure treks that will not only take your mind off the bazaar state of affairs in the world but also give you reason and inspiration for some great training to get in shape.  If recent world events have taught us anything, it's to never take anything for granted, seize the moment and appreciate that amazing body of yours- you are strong and you can become even stronger.  Your wildest desires can come true and we'd love to be the ones to help you achieve them.
Here are our top four picks for 2021.  Ready… set… go!
Ecuador: 12-day Volcanoes of Ecuador Trek. January 9-19, 2021.  4 spots available.
On this rigorous, high-altitude trek, we will summit four non-technical volcanic peaks above 13,000' in elevation, one of them above 16,000ft with the option to summit the volcano Cotopaxi.  Trekking and climbing in Ecuador is a window into a high, historic and beautiful place.  It mixes adventure with modern comfort in a destination that is off the usual travel routes, meaning this special Embark adventure is one you won't want to miss.
Guatemala: 13-day Mayan Highlands Trek.  February 6-18, 2021.  3 spots available.
We have spent the past 10 months living in Guatemala and curating this trek and it will not disappoint. This country hosts 35 active volcanoes, a high-elevation eye-popping caldera lake that will knock your socks off and countless authentic cultural explorations make this a one-of-a-kind itinerary and Guatemala is amazingly accessible from the US; making it an extremely affordable adventure of a lifetime.
Patagonia: 11-day Argentine Hinterlands Trek.  March 6-16, 2021.  9 spots available.
This unique itinerary combines the remote vastness that Patagonia is known for with exposure to a lesser-known part of the Argentina side of Patagonia the very few travelers get the chance to experience.  You're trek will include the well-known Mini-trekking on Gray Glacier and a visit to the iconic Fitz Roy but in between you'll stay at a remote estancia that's been in the family for generations and explore the private reserve in Los Glaciares National Park.  This itinerary is truly unique and we are most proud that it has the unusual component of a cultural connection that most visits to Patagonia don't include.
Nepal: 15-day Everest Base Camp Trek.  April 4-19, 2021.  6 spots available.
Trekking in the Himalayas is unrivaled anywhere in the world- there is an indescribable uniqueness about this part of the world that one can only understand through experience.  Explore the Khumbu valley, it's remote villages and people and appreciate the break from the modern world- you won't see or hear an automobile for 12 days!  This is a scheduled trek with a documentary film crew to record the journey of a cancer survivor as she conquers a life-goal she set long ago.