Overview
Peru: Trek Cordillera Huayhuash
A bucket-list conquest for experienced hikers, this amazing journey to the very heart of the Cordillera Huayhuash is challenging and rewarding in the truest sense. We explore intimately the second-highest tropical mountain range in the world. A trekker's paradise, this terrain is remote, wild, and stunningly beautiful. Our specially curated trek crosses six high passes over 15,000 feet and one that is higher than 16,400 feet! Our camps are thoughtfully set next to stunningly beautiful alpine lakes and in broad, grassy valleys overflowing with wildflowers and rushing alpine creeks, basking in the imposing presence of the White Mountains, with peaks at elevations over 20,000ft.
Private trip dates available upon request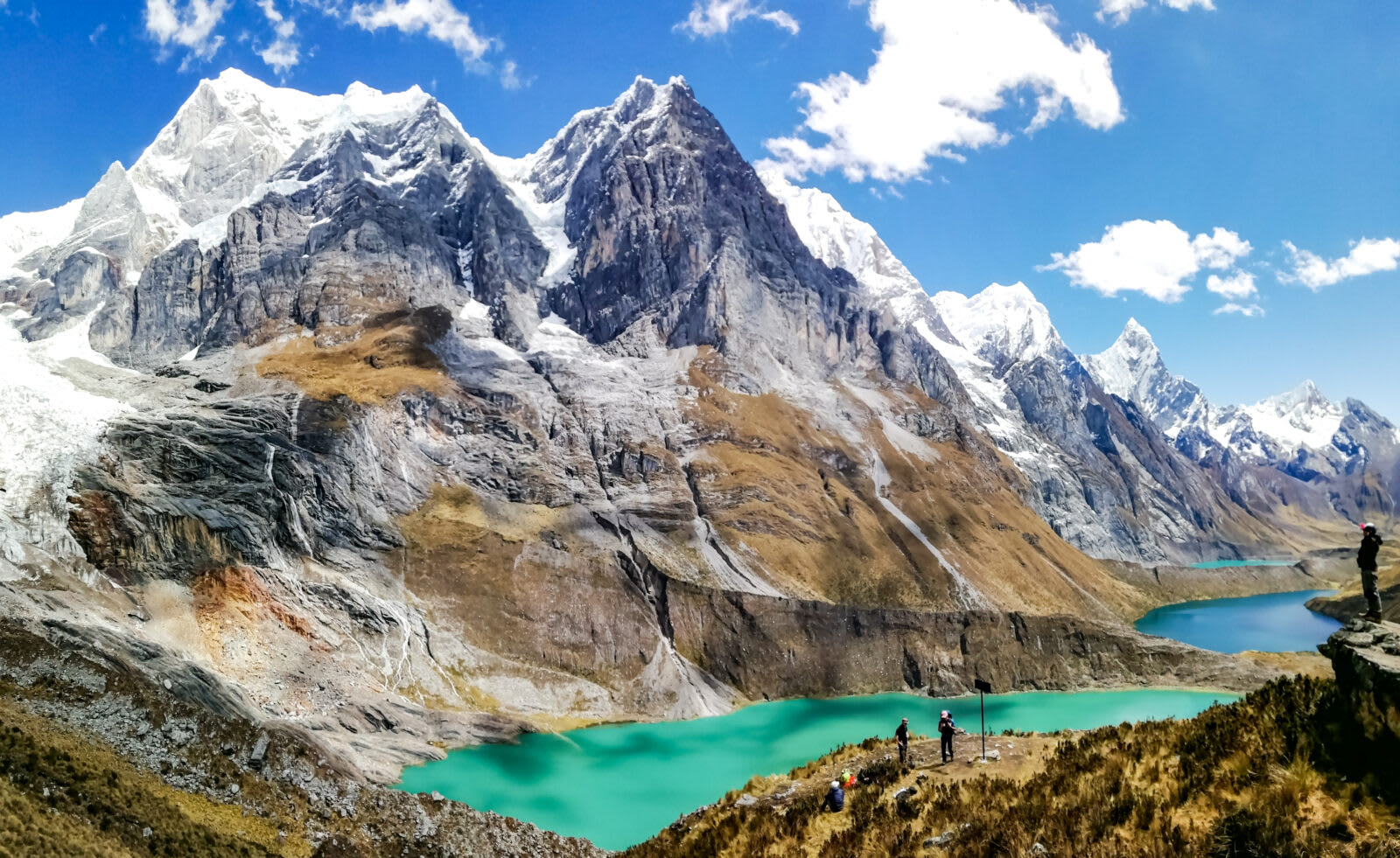 Trip Highlights
Considered one of the best alpine hikes in the world
Cross six high passes over 15,000 feet and one that is higher than 16,400 feet!
Hike and explore the second-highest tropical mountain range
Itinerary
Day 1
Arrive Lima
Today is a free day to get your bearings after traveling.
Day 2
Lima-Huaraz
Today we have a 7-hour private van ride from Lima to Huaraz, overnight in a hotel.
Day 3
Wilcacocha
Join us for an all-day adventurous acclimatization hike in the Cordillera Blanca Mountain range southwest of Huaraz. Today's trip will help you adjust to the thinner air and prepare for more challenging future hikes. Driving to Rumichuco Bridge, located 20 minutes from Huaraz, we begin gradually ascending toward Ararcocha and Willcacocha Lakes. As we hike, we'll come upon the towering snow-capped peaks of the Cordillera Blanca, one after the other, including Peru's highest mountain, Mt. Huascaran, standing at 22,204 ft (6768 m).
Day 4
Llanganuco
After breakfast, we will head northwards on the Callejon de Huaylas through Yungay, a town rebuilt after the 1970 earthquake. Following on, we ascend towards the Gorge Llanganuco, a glacial valley that gives us incredible views of Huandoy, Huascarán and Chopicalqui Mountains. We will stop to have lunch near one of the two lakes, and if time and weather permits, a hike in a side valley named Quebrada Demanda, with great views of the Chacraraju Mountain. In the afternoon we will return to the city of Huaraz, arriving in the evening.
Day 5
Huaraz – Chiquian – Cuartelhuain
Starting out in the early morning, we'll head south along the paved road for approximately two hours to the town of Chiquian. Along the route, we'll pause at a vista point in order to appreciate this segment of the Cordillera Huayhuash including Yerupaja, the second highest peak in Peru. Continuing our journey, we traverse a dirt road towards Llamac Village, the gateway of the Cordillera Huayhuash. Crossing Pocpa Village and Pallca Mine, we approach the entrance of the Rondoy Valley at 13,287 ft (4050m); the scenery opens up into rolling grasslands, dominated by the snow- capped peaks of the Cordillera Huayhuash. We'll set up camp in Cuartelhuain at 13,680ft (4170 m).
Day 6
Cuartelhuain-Cacananpunta Pass-Janca Camp
We start the day crossing the Cacananpunta Pass at 15,256ft (4650m), at the northern end of the massif. This is the Continental Divide, and from this point on, the waters flow to the Amazon and the Atlantic. This is a favorite spot for the Andean Condor, and with any luck, we'll spot these huge birds soaring over our heads. From here, a rough descent brings us through colorful landscape leads to a beautiful, flat, grassy campsite at Janca (13,870 ft/ 4230 m). Our camp isn't far from Lake Mitucocha, whose turquoise waters reflect the peaks of Ninashanca, Rondoy and Jirishanca peaks. This relatively short day will aid in our acclimatization to the altitude, but for those still feeling energetic we can take a short hike to the lake in the afternoon.
Day 7
Janca – Carhuac Pass – Carhuacocha
The Carhuac pass at 15,174ft (4625m) takes a bit longer, but is not too steep, with splendid views of Yerupaja, which at 21,765ft (6634m) is the highest mountain in the Huayhuash region. Descending, we arrive at the rim of a hanging valley where we can glimpse down on the crystalline blue green waters of Lake Carhuacocha. We end at our campsite, located below the lake at 13,620ft (4151m). It is surrounded by an incredible vista of peaks and hanging glaciers that dwarf us with their looming presence.
Day 8
Carhuacocha – Siula Pass – Huayhuash
Photographers: an early rise to catch the sunrise over the lake and snowy peaks from our campsite is highly recommended. You'll know it was worth it when you witness the sun's first rays catching the peak of Mt Yeru- paja at 21,765ft (6634m). Today's trek is a long, gradual climb up from a verdant valley accompanied by the gor- geous views of Yerupaja, Yerupaja Chico, Siula Grande, Jirishanca, Santa Rosa, and Carnicero. We'll also have the good fortune of passing lakes Gangrajanca, Siula and Quesillacocha, each as pristine and crystal clear as the next. Finally, we have a steep climb to the top of the rocky Siula Pass 15,781ft (4810m). After this challenging section, we descend to Huayhuash Campsite 14,238ft (4340 m) and sleep nestled at the foot of Mount Trapecio and the three peaks of Jurua.
Day 9
Huayhuash – Trapecio Pass – Huanacpatay
Continuing our trek, we ascend 2230ft (680m) to reach the fourth pass, one of the highest of our trek: Trapecio Punta at 16,470ft (5020m). At the top of the pass, take in excellent views of the peaks of Trapecio, Puscanturpa and the southern peaks of the Cordillera Raura. Next, we descend a very steep and rocky trail for around 820ft (250m) and traverse an old glacier moraine before reaching camp: a grassy valley nestled at the foot of spec- tacular Cuyoc Peak. We'll camp here on the plains of Huanacpatay at 14,800ft (4511m).
Day 10
Huanacpatay – Huayllapa – Huatiac
Today is probably the hardest day, with a tough afternoon, and often involving hot weather. We retrace our steps down the Huanacpatay valley and drop to the warmer climate of the cultivated, remote village of Huayl- lapa at 11,800ft (3600m), with beautiful views of the waterfalls. In the afternoon, we climb steeply again to spend the night at 14,100ft (4300m) at Huatiac, a high grazing meadow under the shadow of Diablo Mudo, the 'Dumb Devil'.
Day 11
Huatiac – Tapush Pass – Gashpapampa
At last, a very easy day as we cross the Punta Tapush Pass at 15,650ft (4770m), and then, descend for approxi- mately one hour to our next camp located in Gashpapampa at 14,829ft (4520m). From the campsite, we'll ap- preciate a glorious sunset behind Mount Diablo Mudo.
Day 12
Gashpapampa – Yaucha Pass – Jahuacocha
Today we trek down to the Angoshcancha Valley through a forest of Quenual (Paper Bark) trees. Then we ascend to our eighth and last pass: scree-covered Yaucha Pass, at 15,912ft (4850m). On a clear day, there are magnificent views of the highest peaks of the Huayhuash Range and long-distance panoramas of the imposing peaks of the Cordillera Blanca. Here is another good spot for sighting Andean condors. A long descent eventu- ally brings us to the indescribably beautiful Laguna Jahuacocha, widely held to be among the scenic gems of the entire range. Overnight at 13,287ft (4050m).
Day 13
Jahuacocha-Mancanpunta Pass- Pocpa-Chiquian
Having successfully completed our Huayhuash trekking circuit, we leave camp early for our return to Huaraz. We will ascend a steady but gradual climb up to Mancanpunta Pass at 15,000ft (4572m) and then, after a brief rest at this vantage point taking in the surrounding Andean ranges, we descend a steep gravelly trail to Pocpa at 11,430ft (3483m). In Pocpa, our private transportation awaits to transfer us to Chiquian at 11,070ft (3375m), where we will spend the night.
Day 14
Chiquian – Lima
Private van to Lima and connection home.
Dates & Pricing
2024
Start
End
Double Occupancy
Jun 15

Jun 28

$2995 USD

Jul 7

Jul 20

$2995 USD
Let's book this trip!
Plan Your Adventure