Overview
Peru: Ausangate Lodge Trek To Machu Picchu
You will feel completely enveloped in these Andean giants as you hike more than 25 miles, climbing multple high passes over 16,000ft. On this trek we rarely sleep below 15,000ft, which means cold nights. But nestled in warm beds after a hot shower you will appreciate pristinely clear air with night skies that reveal the stars like never before and panoramas that just won't quit. With the culmination of your trek you will feel a sense of serene contentment and a closeness with Pachamama- Mother Earth- that you won't soon forget.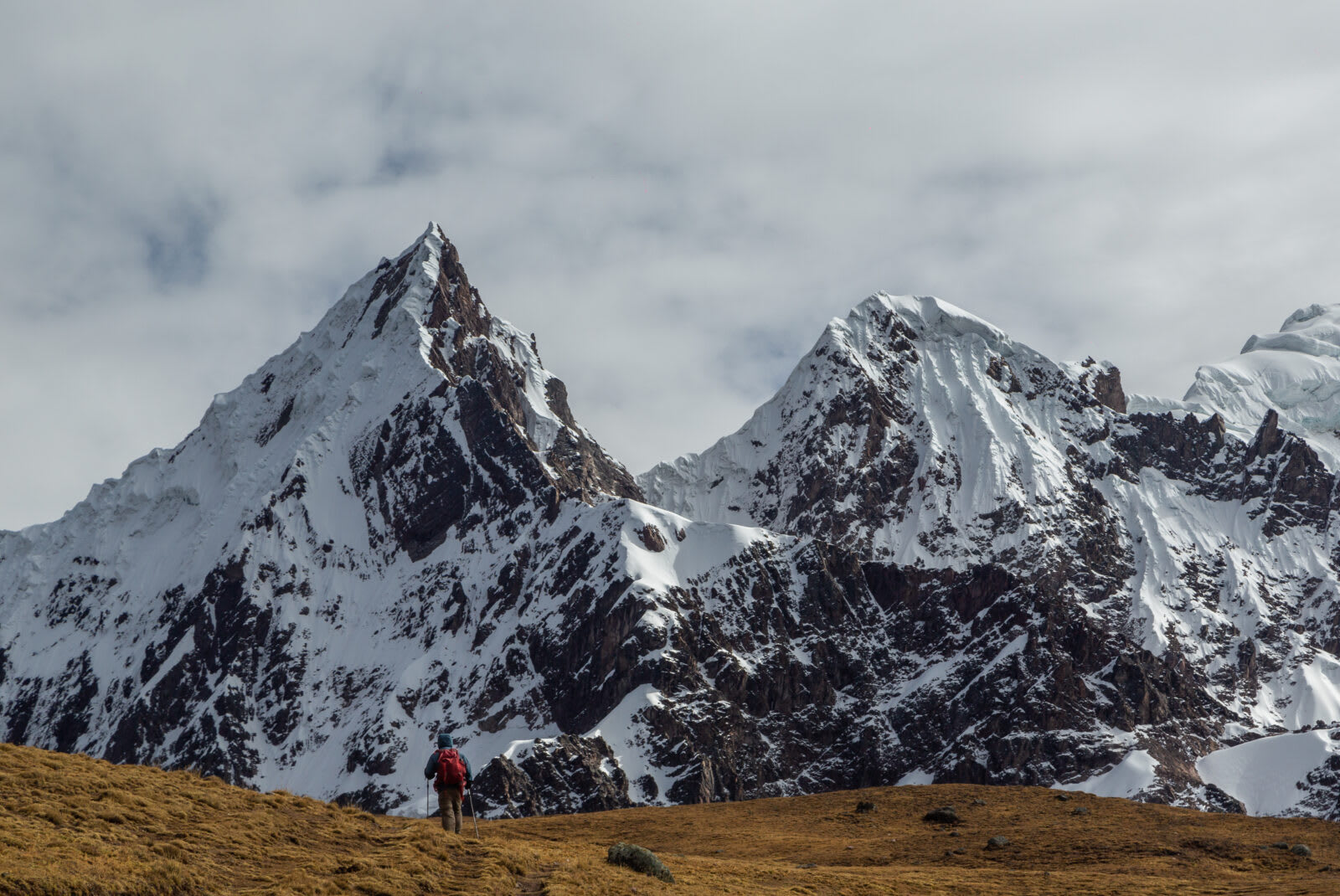 Trip Highlights
Challenging altitude and spectacular scenery every day in a true lodge-to-lodge format
Hike more than 25 miles, climbing multple high passes over 16,000ft
Traveling amongst these immense Andean giant mountains, we find ourselves mostly alone, except for our access to and connection with the indigenous population.
Itinerary
Day 1
Arrive Cusco, Transfer to Sacred Valley
Pick up at hotel and private transport to the Sacred Valley, where we will acclimatize in preparation for our trek. Our destination is Chinchero, a picturesque village in the Sacred Valley of the Incas. We start our cultural exploration in the home of a textile artisan, where we will learn local weaving techniques the creative process.
Finally, we depart for Ollantaytambo, one of the most representative building complexes of the Inca Empire and the site of one of the Spanish Conquistadors' rare strategic defeats. Famous for its terraced fields, Ollantaytambo was a very effective fortress and a religious center.
Day 2
Sacred Valley
Our cultural immersion resumes this morning with a visit to the traditional Andean community of Misminay, located in a stunning mountain setting in the heart of the Sacred Valley of the Incas. As we travel the valley, magnificent panoramic views envelop us before arriving in the colorful traditional community. Here we get a warm welcome from the locals and a colorful first insight into Andean culture. We will take a small hike to the community's lookout point, to enjoy a superb view of the Moray ancient agro-archaeological site. Along the way, our local hosts will educate us about their community, the area and some traditional medicinal plants found along the trail.
Day 3
Machu Picchu - The Sanctuary
Take a moment to quietly sit and listen to the wind... or to meditate and absorb the mystical energy that envelops you. Your imagination will soar as you contemplate the history of Machu Picchu and its mysterious origins.
Day 4
Transport to Ausangate Range, Hike Molino Viejo to Chillca Tambo
Today we depart Cusco, headed souteast along the Vilcanota River to visit the temple of Checacupe, then the upper valley of Pitumarca. At Molino Viego, we'll trek a short distance to Chillca- nestled on the ouskirts of the Ausangate mountain range. Locals and musicians playing Andean instruments greet us in your first "Andean Lodge", as we sip coca tea.
Day 5
Chillca- Machuraccay
fter breakfast we set off, trekking amongst thousands of alpacas and llamas in the glacier valley of Phinaya. We climb up to the inspiring Pjachaj waterfalls as more glaciers unfold before us at Santa Catalina. Above the falls, our picnic lunch await us. Surrounded by moraine walls, glaciers and lagoons we walk about 5 hours to Machuracay Tambo. Our bags, carried by a llama caravan, meet us there and we are welcomed by the family that runs the lodge.
Day 6
Machuracay - Palomani Pass - Anantapata
Today we take in our first and highest mountain pass at 16,900ft, where we'll be rewarded with spectacularpanoramic views. We will descend alongside glaciers towards Ausangate Cocha Lake for lunch, after which we'll see a dramatic shift in the landscape as red sandstone formations come into the picture. After a great day of trekking, Anantapata Tambo awaits or some well-deserved rest.
Day 7
Anantapata- Huampococha
After breakfast, we take the trail to another mountain pass. Dropping down, we'll hike by Lake Kayrawiri, surrounded by rugged mountain peaks and the great valley below. Striations of color are imbedded in the hillsides. We then proceed to Cerro Laya Grande via the massive Glacier del Inca. Here we find the most striking colors in the sediments of Vinicunca ("Rainbow Mountain"). We will take advantage of our unique mountain surrounds to eat lunch lunch in this beautiful landscape. If we're lucky we might catch a glimpse of hundreds of Andean geese nesting in the cliffs of Anta, and the flatiron formations of Apu Labrayani. Huampococha Tambo is our fourth mountain lodge and where we will spend the night.
Day 8
Huampococha - Trapiche Transfer to Cusco
Today is our final hiking day. Take your time this morning to drink in the surroundings and contemplate this vast mountain terrain that has enveloped us on our journey. As we ascend, enjoying a great view of the mountains, we reach the top of Huampaccasa - our final pass. It's all downhill from here! We encounter some of the most capricious shapes of limestone formations from the Cretaceous age and hike until the end of the trail in Trapiche. Here we get to celebrate our achievement with a comprehensive lunch. We'll share food and swap stories with our guides and support team one last time. We return by private transport to Cusco, all the while reminiscing about the amazing views and experiences we shared in the Andes.
Day 9
Departure
Leave on your international flight today
Dates & Pricing
2024
Start
End
Double Occupancy
May 18

May 26

$3595 USD

Jul 6

Jul 14

$3595 USD

Sep 1

Sep 9

$3595 USD

Sep 14

Sep 22

$3595 USD
Let's book this trip!
Plan Your Adventure