The healing power of doing hard things
11.04.2021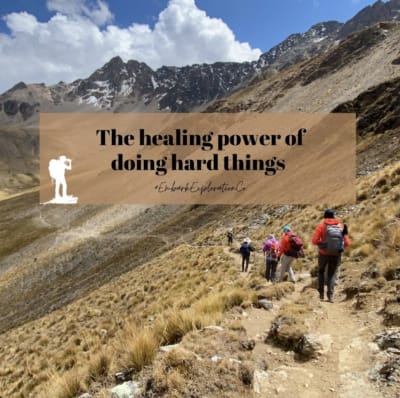 I've had my fair share of athletic goals throughout the years—marathons, triathlons, skydiving license, Kilimanjaro, Everest base camp, and now Peru. For many people, these massive athletic goals are for health, wellness, maybe even competition. For me, it's all about healing, about finding myself or learning more about the human I want to be.
As I was hiking in the heart of the Andes mountains, I found some much-needed emotional release.
Like many of us, these past couple of years have been emotionally challenging, and I have no shame in admitting that I've not been ok.
In the past, I have found that healing comes through challenging adventures, both physically and emotionally taxing goals.
So I called Carrie from Embark told her I needed the adventure to get me out of my funk and heal some extremely broken pieces inside. Honestly, just making that call, saying it out loud took a lot of strength. I learned this past year that there comes the point when you're so sad; the most minor things that used to bring you joy, or be so easy for you to do, seem so daunting. I knew the moment I called Carrie, the moment I let the cat out of the bag, this trip would have momentum that I couldn't stop — and truthfully, it was precisely what I needed.
We decided on Peru for the adventure.
Why Peru? I wanted to go somewhere epic, but not so epic it needed a long time to plan. Peru is only one hour difference from me, an extremely affordable flight (and short one at that)…. piece of cake! Since I had been on Embark's Kilimanjaro and Everest base camp trek, I had all the gear I needed, so that made packing easy. However, after an entire year of virtually no fitness goals, I wasn't even remotely as fit as I wanted to be. I wouldn't allow it to be an excuse. After all, it's primarily mental strength anyway.
A month later, I found myself hiking up Salkantay Pass at almost 16,000ft. It was challenging but doable. I was oddly enjoying the huff-and-puff from my lungs, the grinding of my teeth, and the pain in my toes. That was the difficult day (there is always at least one in an Embark trek). I was secretly looking forward to the difficult day. I needed some healing; I needed to feel like myself again.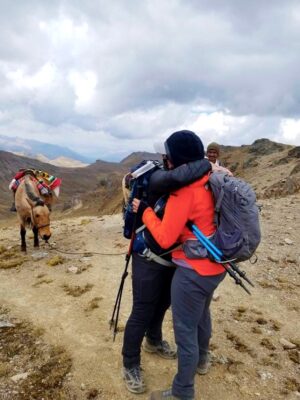 About ten minutes from the top, I could feel it coming, and not even two steps over the past, I started crying my eyes out. Carrie immediately grabbed me in her arms, knowing that this was the very thing I came here to do…. Heal.
For me, it's always been a mixture of self-reflection, good humans to be there for you, therapy, and physically demanding work that heals the broken pieces—— now I can see the mend, I can feel the light.
Maybe you're like me, and you haven't felt like yourself lately. Or it would help if you had a jolt, a pick me up, an escape to a beautiful mountain to work through some things. I promise you something, the moment you sign up, all of those things will start to form to bring you one step closer to your goals, your healing.
There is healing power in doing hard things. Your body and mind are working overtime to break through those emotions, to step you out of your day-to-day and to shake it up. You earned that reward, you worked hard for it… and that grit that comes from it… priceless.
I encourage you to make that call, write that email, make that goal. Thankfully, Embark handles all of the administration, and all you have to do is show up and do the hard work.
Gracias, Salkantay Pass, thank you Peru…. You were just what I needed, and thank you to beautiful humans who are there along the way.