Traveling to Peru
10.19.2021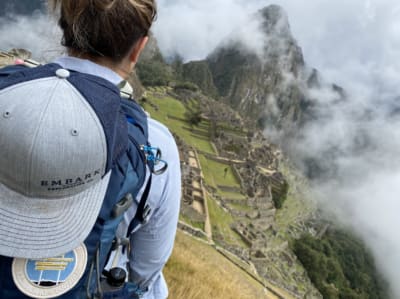 Travel adventures are in full swing in South America with many groups taking the plunge after a couple years of waiting, and boy, was it worth the wait!
Last month, we sat down live to interview one of our phenomenal guides. Listen below as Claudio walks us through what to expect from your trip to Peru, tips on what to pack, and tales from the trail (with maybe some Type Two Fun thrown in there)
Next watch as we document an entire trip from start to finish.  We start with the first few days of the trip, including traveling days, getting settled in Cusco, and day one of trekking.
The amazing trek travels through the remote Hidden Valleys of Salkantay Trek carries you up barren mountain valleys, over a 15,750-foot pass, and down undisturbed valleys all the way through the fabled Sun Gate of Machu Picchu.
This seldom- traveled route amid the Vilcambamba range is peppered with lesser-known Incan ruins. Encountering only the local farmer from time to time, revel in the solitude this route affords as it traces the way through the Inca empire's heartland with breathtaking views of the Andes.
The other significant beauty of trekking in this area is the rich access to many different Incan ruins- there always seem to be remnants around every twist and turn of the trail. Our knowledgeable guiding staff will educate you extensively on these archeological remains whose presence surprises and intrigues you along the way.
Finally, the prize after over 40 miles of trekking is the elusive Machu Picchu, where you enter from above and descend down through the clouds. Through the mystic tiered landscape the ancient site unfolds before you- a true reward for all of your hard work.