"I try to give people some hope."
Sharing Our Embark Stories:
Terry White, Mt. Kilimanjaro
05.17.2017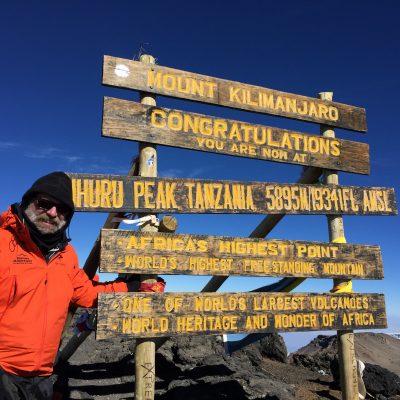 We love to adventure with people, and we love to hear (and share) their stories, as well. So we have a series of posts called "Sharing Our Embark Stories."
This time, the adventurer is Terry White, an airline employee, winery worker and charter fisherman. He was diagnosed with multiple myeloma in 2009 and went all-in on finding information, joining groups, and supporting others.
"After your diagnosis," he says, "your world has been rocked. People are somewhat comforted by somebody like me. I never thought I'd see my son graduate high school. The average life expectancy is 37 months; now it's 2017, and I've just got through climbing a mountain. So I try to give people some hope."
One way to do that, of course, is to go and climb Mt. Kilimanjaro, which Terry did with Embark and a group from Moving Mountains for Multiple Myeloma in 2017.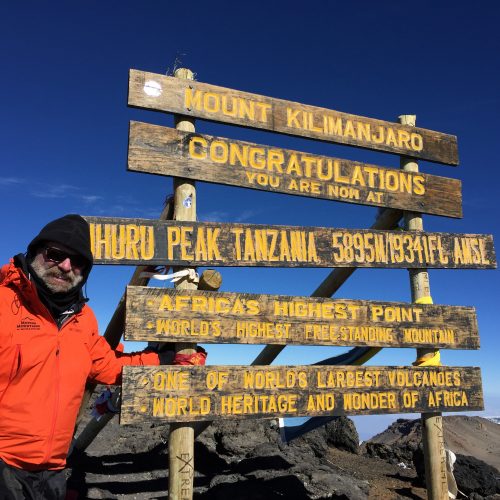 What was the most inspiring moment of your trip?
The very first day, another climber was worn out. But the next day he was up early, and from that day forward he felt good and rallied and was amazing. I was so impressed by the way he overcame the first day – being sick and tired, it was raining, everything. He was a charger.
What's the biggest challenge you overcame, and how did that feel?
For me, it was the big unknown. Even though I talked to people and read about it, there is always that fear because you never really know. Plus, I've worked for Alaska Airlines for 32 years, but I had never even been to Europe. This opportunity was there, and I applied before thinking much about it.
After I got accepted to the team, I had all these self doubts talking to me, and I thought, "Who's going to want to contribute to me? Can I really do this?" I really questioned it because hadn't climbed a mountain since 2011. But it was a success and I'm still blown away I raised more than 1.5 times more than I committed to. I raised almost $24,000.
What did you learn about the place you visited and the people there?
I can't say enough good about those people. You're walking with them all day long and talking to them, finding out about their lives and how they work. They sing at the end of the day, and got us involved, too; I didn't know that was going to happen! As tired as we were, it was a good feeling to have that and be part of it.
I had portable speakers with me; music's been my therapy my whole life. Every morning I played "Africa" by Toto outside the tent, and it became our anthem. The porters borrowed it and loved it, so I gave it to them at the end of the trip. It kicked it up a notch.
How did Embark help make your trip a success?
They just did everything for us. One morning, I was up before dawn, looking at the stars, and all of a sudden there was a cup of coffee in front of me. For the porters to do that, that was above and beyond. But that was the kind of treatment they gave us.
Where do you want to go next, and why?
I had always thought that going to Europe was a huge task, but turns out it's just a matter of getting on a plane. I could see myself walking the beaches of Normandy; I'm a history buff and a patriot. This trip really opened some doors for me.