Rainbow Mountain and the Ausangate Trek: Why This Trip is About Way More than Instagram
01.26.2019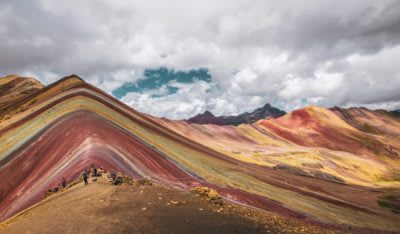 The world-famous mountain is a staple of Instagram feeds the world over – but the journey there delivers an unforgettable experience.
Scroll through Instagram, and it's rarely long before someone posts a photo of the world-famous Vinicunca – more popularly known as Montaña de Siete Colores (Mountain of Seven Colors) and the Rainbow Mountain.
Most of those checking out the famed mountain do so in short bursts: They drive three hours from Cusco and do a six-mile trek to one of the mountain's most famous viewpoints.
That's all well and good, but we're proud to offer the high-altitude Ausangate Trek – which includes time on Rainbow Mountain – for the more adventurous traveler. Most of the 43-mile trail is over 13,000 feet above sea level, with two passes over 16,000 feet, challenging even the heartiest of hikers. Best of all: The long trek means you'll encounter fewer tourists, enjoy incredible views of the Andes, and get to know Peru's colorful wilderness.
We'll have more info on a full itinerary soon, but in the meantime, reach out if you'd like more information on the Ausangate Trek – which pairs well with a trek to Machu Picchu.