Ecuador, Explained: Calculating the Climb up Cotopaxi and Other Iconic Peaks
02.18.2019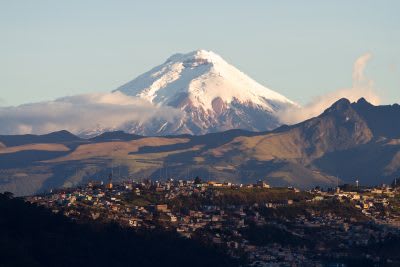 One of the most common questions we hear is: Just how hard are the hikes my next trek?
And we get it: You always have an idea of what you're getting into, but nothing prepares you for the real thing like cold, hard numbers.

So one of the hikers on a recent Volcanoes of Ecuador trek recorded (and passed along) some statistics that explain the difficulty of each hike–and showcase the soaring terrain that makes this one of our most popular trips.

So, courtesy of Mike Phipps, here's a look at some of the peaks you might summit on our vaunted Volcanoes of Ecuador trek:

Hike: Rucu Pichincha
Distance: 7.17 miles
Time: 4 hours, 50 minutes
Elevation gain: 2,306 feet (starting at 10,256 feet, hiking to 13,224 feet)
Hike: Fuya Fuya
Distance: 3.64 miles
Time: 5 hours, 15 minutes
Elevation gain: 2,415 feet (starting at 11,921 feet, hiking to 13,833 feet)
Hike: Pasochoa
Distance: 9.22 miles
Time: 7 hours, 35 minutes
Elevation gain: 3,022 feet (starting at 10,875 feet, hiking to 13,424 feet)
Hike: Pedregal Trail
Distance: 9.27 miles
Time: 5 hours, 10 minutes
Elevation gain: 2,470 feet (starting at 10,650 feet, hiking to 12,025 feet)
Hike: Rumiñawi
Distance: 8.58 miles
Time: 8 hours, 15 minutes
Elevation gain: 3,333 feet (starting at 12,314 feet, hiking to 14,694 feet)
Hike: Parking lot to Refugio Cotopaxi
Distance: 1.05 miles
Time: 1 hour, 5 minutes
Elevation gain: 906 feet (starting at 14,907 feet, hiking to 15,759 feet)
Hike: Cotopaxi
Distance: 5.68 miles
Time: 11 hours, 45 minutes
Elevation gain: 3,891 feet (starting at 15,730 feet, hiking to 19,081 feet)