Where to go in this trekker's paradise?
Top 10 Treks in Nepal
01.08.2018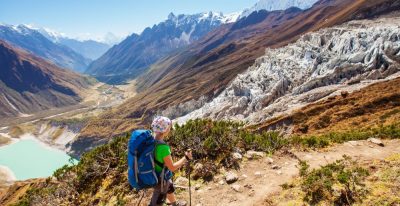 With its spectacular mountain scenery and rich cultural heritage, Nepal is one of the most desired destinations for travelers all over the world.
To truly experience this mountain paradise, though, you need to get away from the cities of Kathmandu and Pokhara. You need to do at least a little trekking to see some of the tallest mountains of the world while delving into a traditional mountain culture rich in simplicity and humility.
But where to go?
Here are the Top 10 Trekking Routes in Nepal:
Rara Lake Trek
This trek takes you through the beautiful Rara National Park, home of majestic Rara lake. Rara is the largest lake in Nepal, and it serves as a sanctuary for a diverse flora and fauna in the national park. Traveling through the 40-square-mile park in the western district of Mugu, this trail offers unsurpassed views of Rara Lake and mountain scenery. There are plenty of chances to spot wildlife like musk deer and black bear, as well as the ruins of the Malla dynasty that ruled this region from the 13th to 18th Centuries.
From the viewpoint at Chuchemara Dauda (10,128'), you can watch the deep serene lake and the snow-clad mountain range in the background. Through untouched alpine pastures and remote villages, this route will simply amaze you with incredible cultural and geographical surprises.
The final days of this trek will lead you into the core of Mugu District and the southern mountains of Humla before you climb down the steep slopes towards Jumla. This less-traveled route is best trekked in autumn, when alpine flowers grace the scene. In summer, the rainfall is low, and in winter, you will get to view the ridge around the lake covered in snow. In November and April, you will see flocks of migratory birds around the lake.
Though in recent years road extension has penetrated this trek, it still has a lot in reserve to offer for hikers and treks.
Sneak Peek: Rara Lake Trek
Length: 10-11-days
Maximum Elevation: 12,172'
Accomodation: Teahouse/Lodge
Difficulty: Moderate
Pricing: Moderate
Langtang Valley Trek
Langtang Valley is one of the relatively easy and accessible trekking destinations if you want to experience the Himalayas of Nepal. It also includes some of the most astounding natural sceneries of Nepal.
This trail falls mostly inside the Langtang National Park, home of the rare red panda. Also, you can see a famous cheese factory and the Kyanjing Gompa. The highest peak is Langtang Lirun (23,770'), but many other peaks fill this 660-square-mile park, including Ganesh Himal, Tserko Ri, the Kyanjin RI and the Dorje Lakpa — all of the above 20,000 feet. Other Himalayan ranges like Annapurna and Makalu can also be seen while trekking this route. The pastoral landscape and exposure to Tamang culture, combined with the stretches of snow-covered mountains, make this a deservedly popular trek.
Despite of being a lower-altitude trek close to the capital, Langtang Valley trek offers no less than any other trekking routes in Nepal. There's a diverse vegetation, and spectacular villages to see in this trek. With glaciers and the massifs lurking over your head, you'll have a thrill like never before in this trek.
Sneak Peek: Langtang Valley Trek
Length: 10 days
Maximum Elevation: 15,420'
Accomodation: Teahouse
Difficulty: Moderate
Pricing: Cheap
Guide: optional
Ghorepani Poon Hill Trek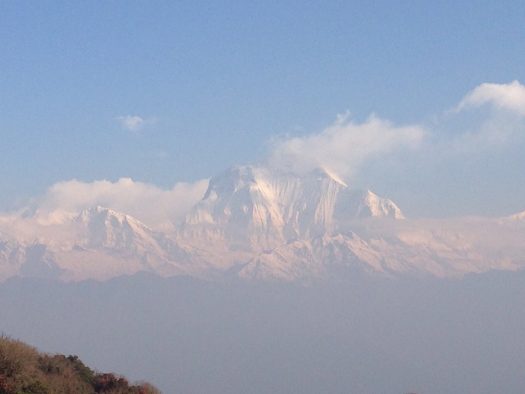 Popularly dubbed as Annapurna Sunrise Trekking, or Annapurna Panorama Trekking, Ghorepani Poonhill Trek is one of the easiest and most popular treks that meander across the ethnic villages of the Annapurna region.
In a short period of time, this trek allows you to witness the beauty of the glorious Annapurna region while traversing the meadows, valleys and forests of oak and rhododendron that grow on the slopes of tantalizing mountains. The whole Ghorepani area is home to different species of rhododendron, which offer a stunning view during spring.
The top of Poon Hill is the highest point in this trek; from here, thousands of trekkers enjoy the views of sunrise and sunset on the Annapurna and Dhaulagiri ranges — hence its reputation as a photographer's paradise. As this trek is one of the easier and lower-elevation options, this view can be enjoyed by almost anyone who is willing to trek irrespective of age.
The rich Gurung ethnic culture is another heartwarming perk of this trail. The people are humble and helpful, and will be happy to serve you. This journey will take you through warm villages, terraced farmlands and paddy fields, and the charming lifestyle of Gurung and Magar ethnicities.
Sneak Peek: Ghorepani Poonhill Trek
Length: 4 days
Maximum elevation: 10,433'
Accomodation: lodges
Difficulty: easy
Pricing: moderate
Remoteness: accessible
Upper Mustang Trek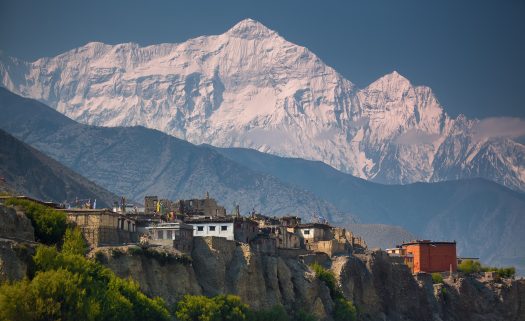 Located in one of culturally and geo-politically attractive area, Upper Mustang was not open for trekking until 1992. This region shares similarity to Tibet in terms of culture and landscape. Also known as the Hidden Kingdom, Upper Mustang remained isolated from the world, and hence has retained a rich cultural and ethnic heritage.
Upper Mustang Trek will take you through 16th-Century Buddhist monasteries and caves carved into cliff walls. Mustang attracts many trekkers due to its semi-arid desert terrain that contains deep ravines, gorges and rock shelves. The whole region lies north of the Himalayan range, and is a hidden paradise for travelers. For anyone wishing to explore Tibetan culture and the Himalayan landscape, this trek is the best fit.
This region was formerly known as the Kingdom of Lo, where one of the most well-preserved Tibetan Buddhist religions is in practice. The whole region lies in the rain shadow zone of the Annapurna and Dhaulagiri ranges, hence, trekking can be done in any time of the year without worrying about rain or snow. This region was an ancient trade route between Nepal and Tibet and offers a blend of Nepali and Tibetan cultures and languages.
Sneak Peek: Upper Mustang Trek
Length: 10 days
Maximum elevation: 12,500'
Accomodation: Teahouse
Difficulty: moderate
Pricing: High
Accessibility: Very remote. In order to go trekking in this route, minimum of two trekkers accompanied by a Nepali guide or porter is required.
Gokyo Ri Trek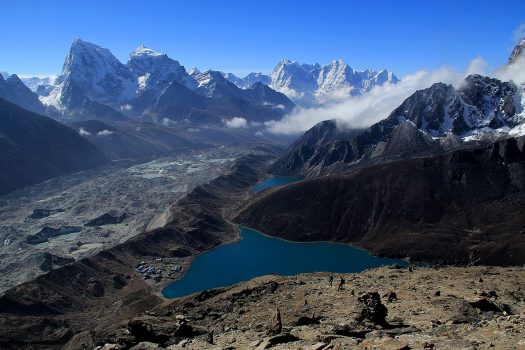 Spanning across forests, numerous suspension bridges, scenic ridges, alpine valleys and glacial moraines, Gokyo Ri is an exceptional trek. This trek offers picturesque views of the five Emerald Lakes together in the shadow of the mountain peaks in Gokyo Valley. You can also see the wonderful ice ridge between Cho Oyu and Gyachung in the Khumbu region. This trek is an ultimate experience for those who seek to exclusive adventure and thrill.
The Gokyo Lake system lies in Nepal's Sagarmatha National Park, and is the world's highest freshwater lake system. This six main lakes are considered sacred by both the Hindus and Buddhists, and the site is worshipped as the residing place of 'Nag Devata' (the Snake God). The Ngozumpa Glacier, the largest in Nepal, is another of the main attractions. Trekkers can also climb Gokyo Ri (17,575') to take in one of the best views of Mt Everest.
This trek overlaps the classic Everest Base Camp Trek, eventually taking you into a valley towards the west of Everest, offering views of Lhotse (27,940') and Makalu (27,838'). It can also be combined with that trek as a kind of scenic add-on.
Sneak Peek: Gokyo Ri Trekking
Length: 12 days
17,575'
Accomodation: Teahouse
Difficulty: Difficult
Pricing: High
Accessibility: Remote
Annapurna Base Camp Trek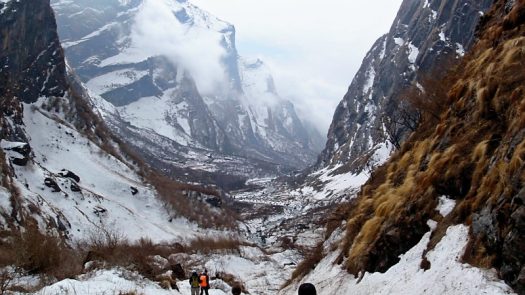 One of the most picturesque and popular trails, Annapurna Base Camp Trek takes you through the beautiful hills and hospitable villages of the Annapurna region. Before you arrive at the base of Mount Annapurna, this trail combines different landscapes that encompass the vicinity of the 8000-meter mountains.
With the massive mountains in Annapurna range, and the harmonious and vibrant villages of Gurung ethnicities, this trek has a lot to offer: mountain villages, high passes, valleys and alpine environment. While passing through the dense rhododendron forests, you'll experience the true hospitable colors of Gurung and Thakali settlements. The diverse Himalayan culture is the fundamental feature of this trek. As you go deeper into the heart of Annapurna Massif, from the foot of Annapurna South, you'll see the most breathtaking view of the Annapurna as it looms vertically over your head.
This trek is of moderate difficulty, with a high point of just 13,550 feet, and it can be done by anyone with average physical fitness. The best times to do this trek is mid-September to November and March to May. During the spring season, this region offers a spectacle of blooming rhododendron flowers.
Sneak Peek: Annapurna Base Camp Trek
Length: 10 days
Maximum elevation: 13,550
Accomodation: teahouse
Difficulty: moderate
Pricing: moderate
Remoteness: remote
Annapurna Circuit Trek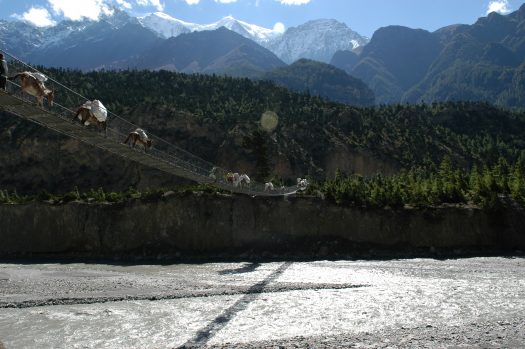 This is the most popular trekking destination of Nepal; it circumnavigates the Annapurna Range while climbing up through one of the highest passes in the world, Thorong-La pass at 17,769 feet above sea level.
Since it opened for trekkers in 1977, this trekking route has gained popularity for its spectacular landscapes and highlight points, namely Tilicho Lake and Thorong La Valley. It's best done in the counter-clockwise direction, from Manang to Mustang.
This is a spectacular trek that takes at least 21 days to complete. You go along the Marshyangdi River with brilliant close-up view of Manaslu and Chuli peaks to the eastern side. As you climbing in elevation, you'll witness a stark difference in vegetation, natural environment, and climate. In addition, you will see how people, their lifestyles and cultures vary according to the changing topography and landscape.
Annapurna Circuit Trek leads you across Thakali and Gurung settlements, river banks and glacial lakes. You will get a closer peek at famous mountains like Annapurna II, Manaslu, Gangapurna and Tilicho. As it stretches through the north of main Himalayan range to the high arid Tibetan Plateau, this trail offers scenery more stark and brilliant than the others.
Sneak Peek: Annapurna Circuit Trek
Length: 21 days
Maximum Elevation: 17,769'
Accomodation: Teahouse
Difficulty: Difficult
Pricing: High
Remoteness: Somewhat remote. Permits required.
Manaslu Circuit Trek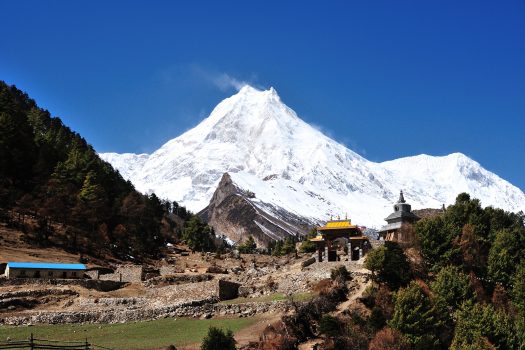 Though the Manaslu Circuit Trek was categorized as a tea-house trek only in 2009, this trek route has gained popularity as one of the most pristine and unexplored trails. The route takes you around the Manaslu, the 8th-highest mountain in the world at 26,781 feet. The highest point in this trek is Larkya Pass, from where you get a magnificent panoramic view of the Manaslu Range.
This secluded trail includes Hindu and Tibetan villages, Buddhist monasteries and many mountain passes, making it one of the most culturally diverse trekking routes in Nepal.
Located to the east of Annapurna, Manaslu gets its name from the Sanskrit word "manasa" meaning the soul. Travelling in this region is hence a spiritually revealing experiencing besides the adventure and thrill this less-travelled route has to offer. The trekking route follows one of the ancient trade routes between Nepal and Tibet, and hence you'll see a cultural blend of Nepali and Tibetan lifestyles. Walking upstream along the Budhi Gandaki River, Manaslu Circuit Trek will is a mesmerizing experience that any adventurer will not want to miss. Since this trail comes under Manaslu Conservation Area, it ranges from sub-tropical Himalayan foothills up to Himalayan high pastures that stretch as far as Tibet. This less travelled route can offer you once in a lifetime experience.
Sneak Peek: Manaslu  Circuit Trek
Length: 13 days
Maximum elevation: 16,752'
Difficulty: Challenging
Accomodation: teahouse
Remoteness: remote. At least two trekkers are required for the permit
Kanchenjunga Base Camp Trek
Kanchenjunga, world's third highest peak and Nepal's second highest at 28,169', is a huge massif in eastern Nepal flanked by five subsidiary peaks. On Kanchenjunga Base Camp trek, you walk all the way up to the foot of this majestic mountain while experiencing the local culture and natural environment of eastern Nepal.
This area is culturally inhabited by the Rai and Limbu ethnicities that share a strong resemblance with Tibetan communities. This route was opened only in 1988 for trekking, and hence the natural and cultural heritage is very well preserved. As you walk past rural communities, you will be amazed by their hospitality and friendly nature. People in this region invite visitors to join them in their festivals, and if you're lucky, you might even get a chance to drink the local beverage, Tongba. Tongba is a bot alcoholic beverage drank from a wooden brass ringed pot. Since most of the festivals occur from September to November, this is the best time to travel to this region for the ultimate natural and cultural experience.
The vegetation and biodiversity of this region is equally mesmerizing. As you gain altitude, you will see a gradual change in the flora and fauna. The lower foothills have temperate and sub-tropical forests, and in the higher altitude, you will see alpine vegetation. From cardamom to different species of pine, Kanchenjunga region is known for its repertoire of medicinally and economically important forest products. Also, the area is home to iconic species like snow-leopard, Tibetan wolf and the red-panda. Springtime offers a brilliant view of this region as more than 50 species of Rhododendron bloom all over the mountain slopes.
Sneak Peek: Kanchenjunga Base Camp Trek
Length: 24 days
Difficulty: Difficult
Price: High
Accomodation: Teahouse
Maximum elevation: 16,844'
Remoteness: very remote. Guide required
Everest Base Camp Trek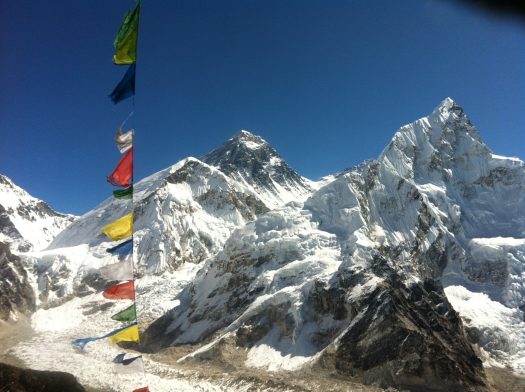 This is by far the most popular trekking experience in Nepal. In Everest Base Camp Trek, you go up to the base of the highest mountain in the world, passing where many mountaineering legends have passed.
Everest Base Camp Trek passes through the Sagarmatha National Park, a highly preserved conservation area which is also a UNESCO world heritage site. The highest you can reach in this trek is at Kalapatthar (18,192'). From this point, trekkers see the sunrise on Everest, Khumbu Icefall and the Khumbu Glacier. Other mountain peaks you can watch from a close proximity include Lhotse, Makalu and Cho Oyu.
Khumbu region is the home of world-famous Sherpas, and trekking in this region means you get to experience the authentic Sherpa culture and lifestyle. You will be walking on the footsteps of climbers like Sir Edmund Hillary and Tenzing Norgay, passing through ethnic Sherpa villages like Namche, Khumjung, Phakding, Dingboche and Lobuche — all while passing among some of the world's highest mountains.
Sneak Peek: Everest Base Camp
Length: 14 days
Maximum Elevation: 18,192'
Difficulty: Challenging
Remoteness: Less remote. Guide required.