An elite trek in northern Peru
NEW TRIP: Cordillera Huayhuash
09.23.2021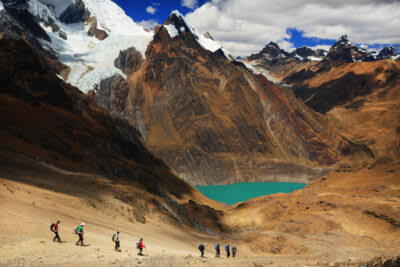 Arguably one of the best alpine treks in the world, the Cordillera Huayhuash is our next elite adventure in Peru.
Huayhuash is well known for its remoteness, beauty and multiple challenging high passes (4600m/15,000ft). Embark will be launching this new adventure soon, scheduled for next Sept. This itinerary will be released to 10 trekkers who have completed other high altitude treks and are looking to elevate their hiking resume. Please let us know if you would like to know more details when they are released.
The Cordillera Huayhuash was made famous with the publishing of the book "Touching the Void" which was made into a documentary film. We are not climbing the mountain, only trekking in the vicinity which, you have to admit, looks pretty epic.