Mt. Everest Base Camp Memory Lane
04.27.2021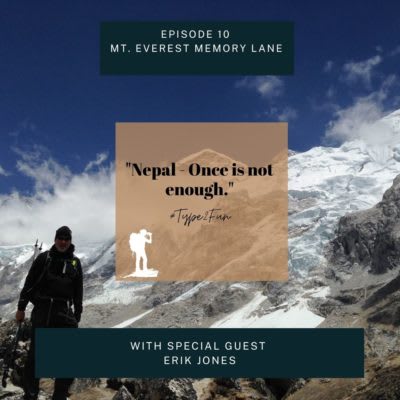 Join us this week as we experience Mt. Everest Base Camp through the eyes of one of Embark Exploration Co's Senior Guides, Erik Jones.
Erik grew up hiking and climbing in Oregon and fell in love with adventure travel during a 12-month backpacking tour of New Zealand, Southeast Asia, India, and Nepal. He has accompanied Embark treks to the top of Kilimanjaro, up and down the length of the Everest region, and across the Wadi Musa Desert in Jordan.

But this week, we decided to dive deep into his 10+ Everest Base Camp treks. Listen in as Erik walks us through what you can experience from Day One in Kathmandu heading to Lukla, through the scenic and community towns of Nepal up to Everest Base Camp and all the way back to your celebratory pizza and beer at the famous Fire and Ice Tavern. Erik shares his super top secret pro-tips you won't find in any guide book and a few Type2Fun stories along the way.

Listen, download, subscribe!