High Altitude Sickness 101
06.15.2022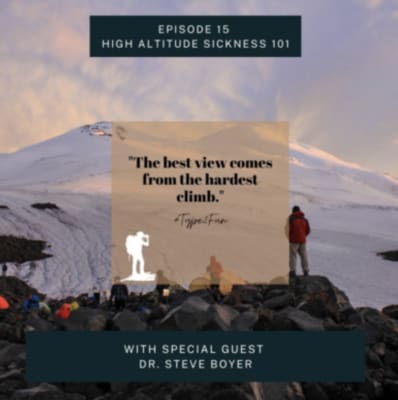 Stephen Boyer, M.D. grew up on a sheep ranch in Wyoming, graduated from Yale with a paleobiology major. Then received his MS in Quaternary Geology from University of Colorado and his MD from University of Colorado. He completed his Emergency Medicine Residency at OHSU, is Board Certified in Emergency Medicine and has his emeritus physician license.
So needless to say, he is extremely qualified to dive into the understanding of High Altitude Sickness. In this episode we will cover:
Can I train for altitude?
Should I take Diamox? (Most people take 125 mg once in morning/once in the evening)
What are the side effects of taking it?
Is it common for people to get light level altitude at the beginning of their adventures, stop, sleep, hydrate and continue?
How fast oxygen from a canister can treat severe altitude sickness.
Pathophysiology of high altitude: AMS, HACE, and HAPE   The physiology portion is important in understanding the "why" of the pathology, avoidance, and treatment
And finally come stories from the trails.
And his personal expeditions range from:
Everest (Tibet): physician/climber with French/Italian expedition, spring, 1988
Annapurna (Nepal): physician/climber with French/Italian expedition, ascent of S. Face, fall, 1988
Lhotse (Nepal): physician for Polish international expedition, fall, 1987
Everest (Nepal): physician/climber with Austrian expedition, fall,1987
K2 (Pakistan): physician/climber with American expedition, summer 1986; (13 fatalities among 9 exp.)
American Medical Research Exp to Everest (Nepal): climber/scientist, 7/81-12/81
(> 50 publications from the expedition: co-author on 4, senior author on weight loss study)
Dufek Massif, East Antarctica: physician/geologist for USGS team, 10/78-1/79