We're Heading to Ecuador – Are You Joining Us?
01.07.2019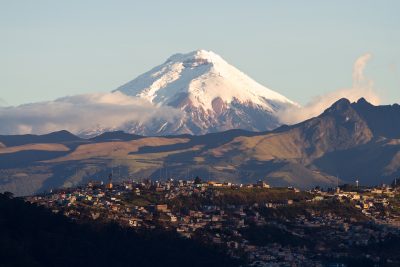 We're making our first trip to Ecuador this month. With another tour on tap for June, here's why you should make plans to visit the natural wonderland – and perhaps climb Cotopaxi – in 2019.
Few countries on Earth match the natural variety found within Ecuador. Sitting on the west coast of South America, Ecuador hosts the Galapagos Islands – home to plants and animals found nowhere else on Earth – as well as pristine beaches, dense rainforests, and some of the continent's highest peaks.
With so much natural beauty, we're excited to announce our first trip to Ecuador – and Cotopaxi, the country's second-highest peak – this month. We've had our eye on the country's rich variety for years, and we're excited to partner with locals who will take travelers through some of the country's most beautiful highlights.
We're also heading back in June, and space remains available on that trek. Interested in seeing what all the fuss is about? Learn more about Ecuador and its volcanic attractions, and get in touch to join us later this spring.