Embark Featured in MAC Newsletter
01.11.2012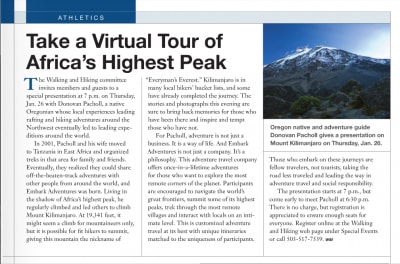 Embark exploration Company was featured in this month's newsletter of the Multnomah Athletic Club. Embark founder Donovan Pacholl will give a a presentation on climbing Mt. Kilimanjaro at the MAC on January 26. It's a members-only event but you can be added to the invite list by getting in touch with Donovan.
This event is just one of several upcoming opportunities to meet with us in person.
To read the article from the "Winged M," just follow this link.