Aconcagua Climb Details
01.22.2021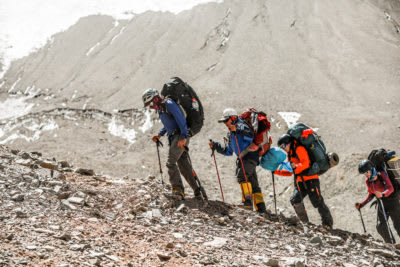 Hello Climbers!
Reach out to us for the 20 day itinerary for climbing Aconcagua in Argentina. We are really excited about this new climbing adventure, and hope to see some of you on the mountain. We have partnered with mountain guides certified by the Argentinean Association of Mountain Guides for this first adventure, most of which have more than 30 ascents of the mountain. 
This route we've chosen for this expedition is the Polish Traverse Route which starts on the east side of the mountain, wrapping around the mountain to descend down the west side. When completed, you have accomplished a complete circumnavigation of the mountain. Both routes are non-technical, so no previous rock or ice climbing skills are needed.  It's a bit more unique than the standard route, as the hiking distances are a bit longer, but the scenery is more spectacular, and there are less people. To be extra safe, we have added two extra "weather" or rest days into the itinerary, to make sure we have the highest chance of success. 
You will experience two major Base Camps while on the mountain.  They both are  fully equipped with large dining tents, tables and chairs, professional kitchens with chefs to serve you, and Wi-Fi throughout the camp.
An important note about this particular adventure:  Although supported by both mules and porters, climbers will be required  to help transfer some of the shared camp gear up to the higher camps. You should expect multiple days of carrying loads between 25 lbs. (11 kg) and 40 lbs. (18 kg) while ascending as much as 3,000 ft. (950 m) in a day. It is usually what we are calling a "carry day," where we use it as an acclimatization hike, but also as a day to cache our gear since we will return the following day. There is an option available to hire additional porters to help transfer 10 or 20 kilos of that gear, and those prices will be available next week (Just a note that this expense will be higher than supplementary support staff on places such as Kilimanjaro and the Himalayas). 
A few things extra items:
Sign up for Aconcagua is a first come, first serve basis. After 12 people sign up, we will start a waiting list. The trip will be confirmed when 8 participants have signed up. 

The deposit for this trip is $500 and it's non refundable. If either the US or Argentina is closed to travel due to COVID, then it can be pushed to the following year. This deposit cannot be transferred to any other destinations. 

One more important informational item: The climbing permit for Aconcagua is not included in the trek cost and must be paid to the park authorities directly by the climber.  We will help facilitate this process upon arrival. The price of the permit is variable based on the climbing season, for this particular trek we strategically picked the first day after high season ends to have the lowest price, which is $730. The price is subject to change by the Argentina government but is expected to remain the same next year.
With this itinerary, you are required to carry the gear weight detailed below, but again, additional porters can be hired.
Day 7 – Plaza Argentina to Camp : 10 kilos (22lbs) of expedition gear

Day 9 – Plaza Argentina to Camp 1: 15 kilos (33lbs) of personal gear + 1 or 2 kilos (2-5lbs) of expedition gear

Day 10 – Camp 1 to Camp 2: 10 kilos (22lbs) of expedition gear 

Day 11 – Camp 1 to Camp 2: 15 kilos (33lbs) personal gear+ 1 or 2 kilos (2-5lbs) expedition gear 

Day 13 – Camp 2 to Camp 3: 10 kilos (22lbs) expedition gear

Day 14 – Camp 2 to Camp 3: 15 kilos (33lbs) personal gear + 1 or 2 kilos (2-5lbs) expedition gear

Day 16 – Camp 3 to Plaza de Mulas: 15/20 kilos (33lbs- 44lbs) in total 
Let me know if you have any questions. We look forward to seeing you on the mountain.