A Discount on Your Next Adventure! Free Swag will follow
Embark Loyalty Program
01.18.2022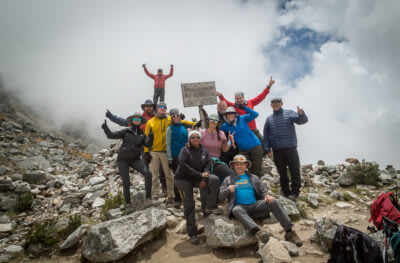 Once in a lifetime adventures should be more than once a lifetime!
Those intoxicating moments you loved while trekking with Embark can be fleeting, but there's never a shortage of adventures Embark has in store for you. 
Don't wait to get that hiker's high – Introducing the Embark Loyalty Program starting for trips in 2023 and beyond. 
Book and submit a deposit for your next adventure within six months of your last trip, receive a 5% discount, and even receive the highly coveted Embark swag. 
Your adventure trekking wish list just got easier to check off, and Embark considers it a joy to help you experience the remote corners of the world filled with fascinating treks, safaris, and expeditions bursting with type two fun. 
Specific terms and conditions do apply: 
Loyalty Program Adventures need to be completed within 12 months of the deposit 

Offer only applies to one individual 

It does not apply to wildlife safaris 

Does not apply to group adventures sponsored by foundations, universities, or private businesses 

It cannot be applied to deposits made before 2023 

Does not apply to additional add-ons, such as hotels or local tours. 
Contact us for more details.