Understanding the Cost of Kilimanjaro: What Sets Us Apart?
11.26.2018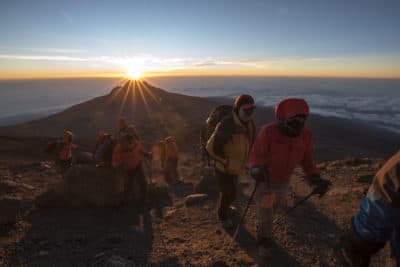 There's a lot to consider when debating whether to climb Mount Kilimanjaro. Here's a look at what sets Embark Exploration Co. apart.
Climbing Mt. Kilimanjaro is a once-in-a-lifetime opportunity; the views and sense of accomplishment create memories that will stay with you forever. But reaching the summit requires hard work, the right preparation, equipment, physical training – and, crucially, the right experts guiding you along the way. And that begins long before you step onto the mountain.
Embark Exploration Co. was founded on Mt. Kilimanjaro, where we lived for two years and now maintain a summit success rate of 95 percent. At Embark, our philosophy is that you aren't climbing this mountain to march among hordes of tourists; you want to have a true climbing experience, which you hope will culminate in an unforgettable summit – and, of course, a safe return.
High-altitude trekking is not the time to shop for the lowest deal or the cheapest guide – but, then again, you shouldn't have to overpay, either. Embark offers a high-quality service at a reasonable price, with an attention to detail that maximizes your chances for a successful climb and for enjoying every step of your trip. We have been climbing Kilimanjaro for more than two decades, and we're honored that you're considering climbing with us.
Here's what sets us apart.
Comprehensive Safety Training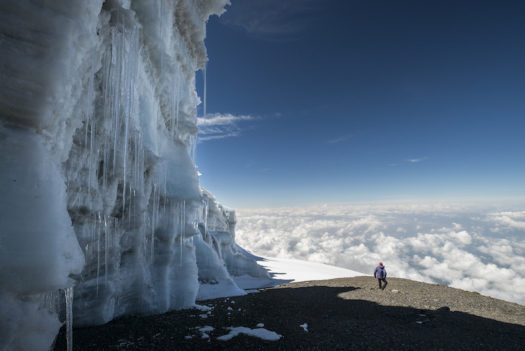 Although Kilimanjaro is a non-technical climb, it reaches extreme altitudes – so safety measures should  be taken very seriously. It is therefore important to climb Kilimanjaro with an experienced company and with guides who are rigorously trained in high-altitude issues, who carry quality medical equipment, and who have the knowledge to monitor their clients effectively.
Our safety record is just as, if not more important, than our summit success rate. Due to its extreme altitude, climbing Kilimanjaro can be dangerous if a climber becomes sick and is not properly observed and treated – indeed, climbers die every few years trying to scale the tallest mountain in Africa.
That's why our staff closely monitors each climber's health and conducts medical checks twice per day to measure pulse, temperature, blood pressure, and oxygen saturation. We track each group member's O2 history and can identify the signs when climbers have trouble with acclimatization.
Should the need arise, we are equipped with emergency oxygen and a portable hyperbaric bag to help climbers acclimate and recover. And if health issues persist, we've developed a strict protocol for handling emergencies on the mountain.
As part of our safety protocol, we are one of the few trekking companies to carry U.S.-based liability insurance to protect our climbers in case of an injury or if another crisis arises.
Watch a short video about the daily medical check you'll receive during the climb:
Fair Wages and an Ethical Treatment of Porters
Only 30 of the 120 companies operating on Kilimanjaro pay fair wages, and we're proud to be part of that select group. Above all else, we believe in paying fair wages and supporting the people and the environments where we travel. We care about these environments and invest money back into communities by supporting local, non-governmental organizations.
Guides and porters assist with almost all of our group gear, as well as setting up camp and preparing meals, and we believe they should be compensated well for their help. And in addition to high wages, we do the little things that set us apart from other climbing companies; that includes feeing our porters at the end of the climb, for instance.
We at Embark are proud to be part of the great Kilimanjaro Porters Assistance Project (KPAP), which works to ensure that porters make livable wages, are treated fairly, carry reasonable weight, and actually receive the tips climbers give them. In fact, Embark's founder – Donovan Pacholl – helped launch KPAP when he lived on the mountain for two years.
Embark is a socially-conscious company, working with nonprofit groups and foundations to help improve the lives of the people we work with and visit. We believe that travel changes people – and, therefore, the world – for the better.
Watch a short video about our guides and porters–the backbone of any climb:
High Ratio of Porters and Guides Per Person
While other companies outsource guides and porters, we're an on-the-ground operator, based in Moshi. And we work with locals whose mission is to create a lasting memory.
We maintain a high ratio of guides per person – specifically, one guide for every two group members. (For example: We would enlist five guides for a group of 10 people.) This means you'll work closely with an expert who has likely summited Kilimanjaro more than 300 times. And if you're climbing at a slower pace, we always ensure someone is on the trail with you.
Furthermore, we employ five porters for every one climber. (For a group of 10, we may enlist up to 50 porters.) Some companies overload their porters and skimp on supplies to save a few bucks, but we do the opposite. We take pride in bringing enough staff to carry everything up the mountain – from plentiful, high-quality food to top-notch equipment.
Optimized Trek Itineraries
Although Mt. Kilimanjaro is known as a "walk-up" mountain, its risks are many. We take these challenges into account when planning itineraries and have developed a slightly longer trek to increase your chances for safe acclimatization, to lower the risk of altitude sickness, and to improve your chances of reaching the summit.
Most companies try to scale Kilimanjaro in five to six days, often without proper acclimatization. We pride ourselves on developing eight- to 10-day itineraries. So how do those extra few days help?
We find that the longer schedule helps ensure climber safety, allows for proper ascent schedules, and boosts your chances for success – especially as you climb to higher altitudes. Not just that, but we take a less-traveled route than most companies, creating more of an adventure – as opposed to a strenuous hill hike.
Guides
The most important factor for a safe, successful Kilimanjaro climb is your guide's expertise. Low-budget operators often hire guides with little experience, poor communication and English language skills, and no medical training.
Most Kilimanjaro guides are contractors who work for whoever will employ them, but our lead guides work only for us. That means your guides have been vetted long before your arrival in Tanzania, and they bring to the climb the kind of experience you won't find with any other company.
Our guides have extensive experience in climbing and have been leading treks up Kilimanjaro for many years. Most have more than 300 summits and more than 20 years of experience; these guides have seen it all and can help with nearly every facet of your climb. In fact, our lead guide was the first Tanzanian to summit Aconcagua – the highest point in the southern and western hemispheres.
Our guides are trained to keep an eye out for safety; they can recognize the early symptoms of altitude sickness – and know how and when to treat a climber.
You'll also feel safe and cared for along the way; our guides are supportive, encouraging, and skilled at maintaining a steady pace to keep your group together. Wherever you are in the group, our guides are happy to help make the most of your climb.
Most of all, our guides are people who understand Kilimanjaro, understand the associated risks, and manage those risks at all times. We're people who care about you, and we'll do our best to make sure you enjoy your journey.
Still not convinced? Check out our Facebook page for glowing reviews of our friendly guides.
High-quality Equipment
High-quality equipment, both at camp and on the climb, plays a key role in keeping you warm and dry.
We only purchase mountaineering equipment from top industry manufacturers. Our expedition-grade tents (Mountain Hardwear Trango 3) are designed for cold-weather climbing and are engineered to shelter participants through rough mountain conditions. Although these tents are large enough to fit three adults, we rarely sleep more than two in a tent.
We pride ourselves on delivering a complete climbing experience that takes all your needs into account. That means we also offer private, sanitary toilet facilities; provide hand sanitizer to keep you healthy; carry multiple oxygen canisters up the mountain; and provide portable hyperbaric bags, should the need arise.
Watch a short video about the tents we use for all Kilimanjaro climbs:
Personalized Service
Planning a climb to the top of Mt. Kilimanjaro can feel almost as daunting as the trek itself. That's why Embark helps with every step of the process – and has developed a checklist of the most important highlights, details, and factors when planning your expedition.
In addition to the comprehensive checklist, we'll conduct an hour-long conference call with your group, prior to the climb, to discuss the following:
Training: We have developed a training document and will provide recommendations, tips, resources, and more to help physically prepare for the trek.
Personal, customized website: We will provide you access to a personal website, created just for your trek, with all the informational material you need to prepare for the adventure. We continue to update the site as you prepare for your journey.
Gear Review: We'll keep you on track with printable gear lists to help figure out what to bring, how to break it in, and how to transport it. Note that you'll be responsible for all personal gear and equipment, while all communal equipment (tents, food, cooking items, etc.) is provided.
Watch a short video on packing for Kilimanjaro:
Physical Training Recommendations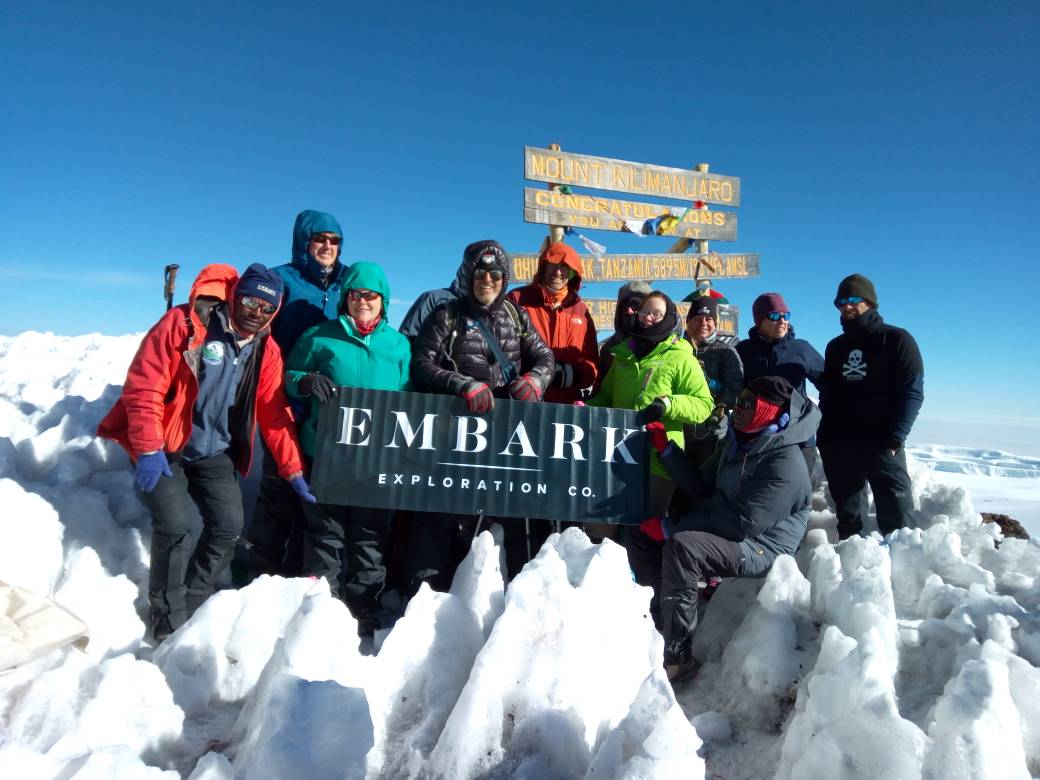 Kilimanjaro is sometimes called the "Everyman's Everest" because even novices can reach the summit. That said, not just anyone can climb it. You must be prepared physically, mentally, and psychologically to successfully stand on the roof of Africa.
At higher altitudes, there's less oxygen and very little moisture in the air – so proper preparation is extremely important.
Because we have studied the best trip lengths and routes, our clients generally encounter very little serious altitude sickness. Furthermore, we have established programs to help our clients achieve successful acclimatization on the mountain.
This is a physical undertaking, so you'll want to prepare yourself with the training program we provide. It's a four-month training course to assure you are physically prepared for Kilimanjaro, and it focuses on improving your overall aerobic ability, strengthening your core, improving your balance and flexibility, and finally building strength in your lower and upper body.
With our guidance for physical training, you'll increase your odds of making it to the summit. Generally speaking, the more you exercise and prepare, the more you will enjoy the climb.
Food
We know you're not coming for the food, but that doesn't mean it shouldn't be enjoyable. You'll be served three high-quality meals per day, with plentiful portions and the right balance of carbohydrates and proteins. Vegetarian, gluten-free, and other specialty diets are available upon request.
All meals are nutritious and calorie-dense, each specifically designed to sustain the energy of climbers.
We make traditional mountain food – but also include fun meals like pizza and Mexican dishes. We'll even enjoy treats at our celebratory meal at the end of our journey.
We know that being adequately hydrated affects everything from how happy you are to how healthy you stay during the trip. You lose water and sodium as your body acclimatizes to altitude, and this leads to dehydration. You'll have constant access to safe, clean drinking water throughout the trek to stay healthy and happy.
Watch a short video about eating and staying hydrated on the climb:
Great Value
Don't get us wrong: There's nothing cheap about climbing Mt. Kilimanjaro. But we offer competitive prices that deliver a great value, high-quality service, and the safest possible experience.
So why do we charge what we charge? Here's a brief breakdown of the various fees and costs that come with climbing Kilimanjaro.
Kilimanjaro National Park fees: Park authorities collect daily fees for upkeep, trail maintenance, and rangers.
Camping fees: Visitors must pay a daily fee to camp or stay in huts on Kilimanjaro.
Rescue fee: Think of this as insurance; you'll pay a daily fee that promises safe rescue should the need arise.
Value-added tax: The Tanzanian government charges a general tax, above and beyond all base fees.
Wages: Fees for porters and guides are included in the cost of the climb.
Food: All meals on the trek are included in the fees.
Conclusion
We get it: When shopping around for trusted Kilimanjaro climbing companies, it's easy to look at price and go with the cheapest choice.
But up on Kilimanjaro, when the temperatures drop and the real climbing begins, you'll be glad you chose Embark. You'll appreciate our knowledgeable guides, always committed to your safety; you'll enjoy our state-of-the-art equipment, keeping you warm and safe; and you'll rest easy, knowing we've optimized your experience to create the highest possible chance of success.
From the time you book your climb until well after you summit, we think you'll see what sets us apart. We're your partner in making this a life-changing adventure, so that means we're with you every step of the way.