Overview
Patagonia – 50 mile option
Experience the trip of a lifetime while supporting The Leukemia & Lymphoma's mission to drive groundbreaking research and comprehensive patient care. Together, Embark and LLS are hosting epic adventures around the world with the goal of raising $500,000 per trip. The funds raised by Climb2Cure participants help The Leukemia & Lymphoma Society explore new paths to cures, supporting approximately 300 active, cutting-edge research projects in the most promising new areas of immunotherapy and personalized medicine in cancer research.
Patagonia has always been a synonym for adventure, combining pristine wilderness with epic extremes of size, beauty, climate, and remoteness. Our long experience in this trekker's paradise has led us to establish a new, less-crowded itinerary for trekking exclusively in Argentina's genuinely wild portion of Patagonia, a land of calving glaciers, expansive lakes, awesome steppe, and peaks so jagged they hit reset on your heart. A puma's paw print in the dust. A herd of guanacoes so wild they don't fear your approach. Not just an endangered condor, but clutches of them, spinning overhead like pterodactyls brought to life. Few visitors have ever seen the fruits of this new northern terrain, as we trek into seldom-visited Andean valleys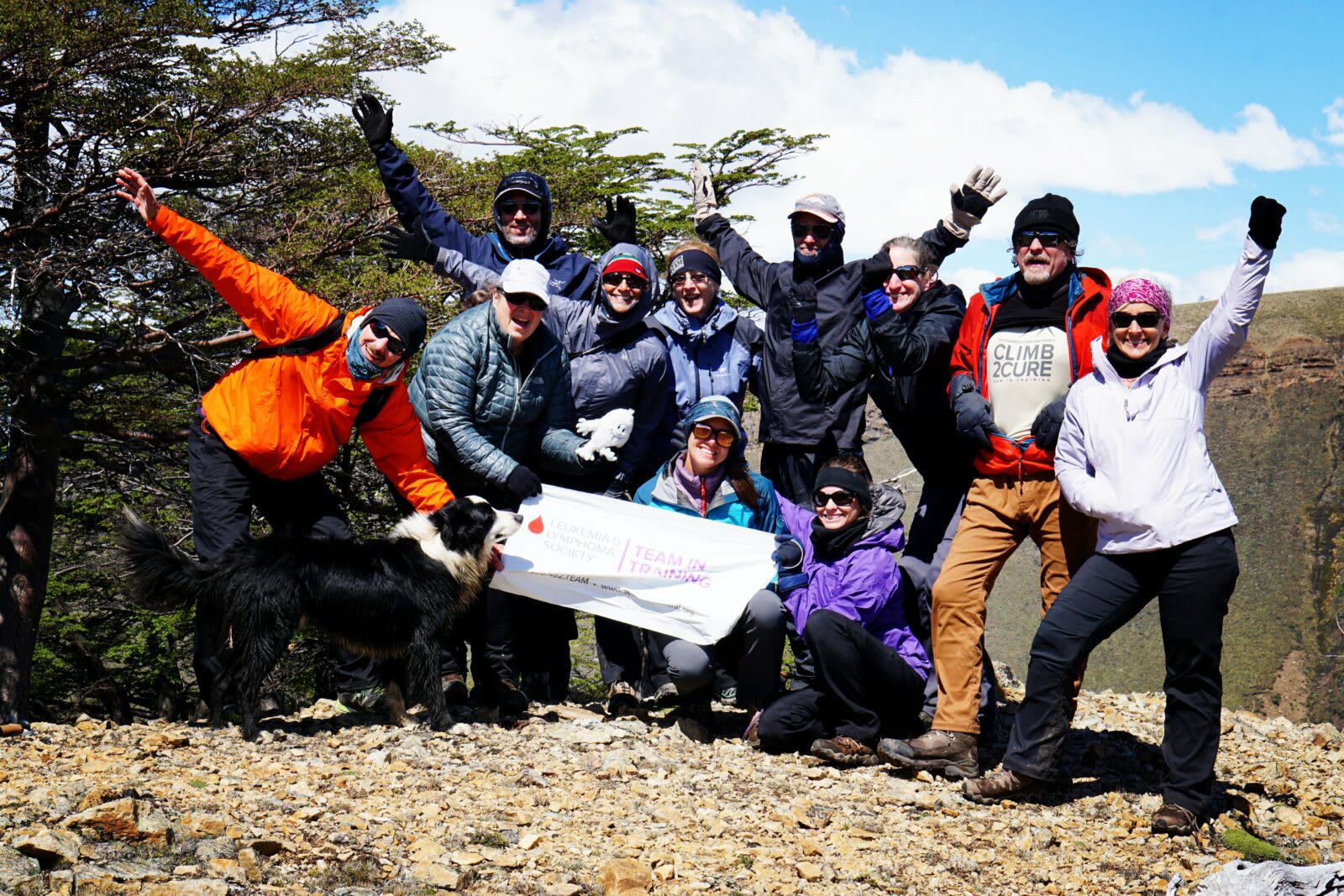 Trip Highlights
Push your limits in the vast remoteness of the Patagonian outback
Hike amongst the never-ending turquoise lakes of this southernmost South American region
Take in the awe-inspiring glaciers that dominate the landscape
Feel the pride of reaching your daily destinations by foot after having thoroughly explored the expansive rugged terrain that Patagonia has to offer
Itinerary
Day 1
Arrive El Calafate Patagonia
You will be greeted at the airport and driven to your hotel. Group briefing tonight.
Day 2
Transfer to El Chalten
We have a long drive today to the quaint town of El Chalten , a trekking and climbing community located next to "Los Glaciares National Park." After our long car ride we have an optional hike to Mirador de los Condores to stretch our legs. We leave the center of El Chaltén by crossing over the bridge of the Fitz Roy River, then continuing along to the National Park offices. From here we pick up the trailhead and walk up the path to the viewpoint. After a gentle climb of some 40 minutes, we arrive at a viewpoint which is strategically located for the possibility of spotting condors on their frequent flight between the valleys of the Vueltas River and the Fitz Roy River.
Day 3
Laguna Torre
From El Chaltén we head off on the Laguna Torre footpath and after a small climb we enter a Beech forest. From here, the path starts to gain height as it follows alongside the Fitz Roy River, eventually arriving at a river canyon viewpoint and the beautiful Margarita waterfall. Approximately another hour of walking takes us to the Mount Torre viewpoint. Here we will make the most of the magnificent views of Mount Torre, the Adela range and glaciers. After a short break, we have another few hours of walking to get us to Laguna Torre. In this section there is always the possibility of spotting a wide range of birds, including the Magellanic woodpecker. At Laguna Torre we will marvel at the huge icebergs, having fallen off the Torre glacier face.
Day 4
Loma del pliegue Tumbado
Another fantastic trek is to access a 360° viewpoint, via a secret trail in the national park. This spot offers an unconventional and unique view of the Torre and Fitz Roy massifs, the Patagonian steppe and the vast Lake Viedma. We depart on foot today via a footpath that heads towards Laguna Toro. Having walked for about an hour in ascent and crossed over small streams and through some beech forests, we arrive at an exposed area with a picture postcard view of Mount Fitz Roy, Torre and Huemul. We continue across the meadows, locally called "Pampa de las Carretas", eventually passing through the woods. On leaving the forest, we cross an alpine terrain, where delicate flowers growing in such an arid area won't fail to surprise. In this section it is quite possible to find the remains of marine fossils such as ammonites and belemnites which are about 100 million years old. Ultimately we end at our final destination, a breathtaking viewpoint at nearly 5,000ft.
Day 6
Piedra Negra
The day starts with a 30 minute transfer from Chaltén to Río Electrico, on a gravel road. From the trailhead we start walking along the Eléctrico valley, the path is easy, pretty even while it works its way through an enchanting beech forest. After about 2 hours we get to Piedra del Fraile Refuge where we begin a big ascent. We climb more than 3,200ft up to Piedra Negra vivac, along the way scrambling up scree, crossing grass and navigating marsh land. We finish with a well-earned view of Guillaument Mountain - part of the Fitz Roy Massif.
Day 7
Laguna de los Tres
This trek starts with a transfer to the trailhead at El Pilar, located 10mi north of town. We start walking in a dense Beech forest that protects us from the winds coming off the Continental Ice Field. Right from the start we are able to see multiple glaciers; Marconi, Eléctrico, Cagliero and in the distance, towards Lago del Desierto, the Vespignani glacier. The path today is quite flat and the climbs are gentle, though the distance is long. We arrive at our first viewpoint, Piedras Blancas Glacier, and a bit later we leave the forest and end up in a clearing where we can admire the peaks of Saint Exupéry, Poincenot, Fitz Roy, Mermoz and Guillaumet. Our final challenge is a 1300ft ascent up rocky steps which brings us to Laguna de los Tres where we are rewarded by the majestic views of Fitz Roy, the glacier de los Tres and its lagoon.
Day 8
Departure
Transfer to El Calafate for your flight back up to Buenos Aires.
Dates & Pricing
2024
Start
End
Double Occupancy
Book Patagonia- 50 Mile Option
Let's book this trip!
Plan Your Adventure