Overview
Tanzania: Mt. Kilimanjaro Coil – Loop Africa's highest mountain
We've got an awesome way to experience the challenge of the regal free-standing giant of East Africa. If you have yet to conquer Kilimanjaro but you're up for pushing your limits with this longer, though more gradual, ascent, this trek is for you. Alternatively, maybe the mountain is calling again and you're looking for a different, more unique way to climb it.
This rare route is an amazing approach that only a small fraction of Kilimanjaro climbers can put on their climbing resume. Our exclusive 9-day corkscrew hike starts around the northern side of Kilimanjaro, curling around the western, least-visited, side of the mountain and meeting up for a final southern summit ascent. Capture unreal views of northern Tanzania, an area only seen by a few, and revel in the stillness of our camps as you wind your way west. This hike is definitely a way of doing Kilimanjaro that allows you to genuinely relish this unconventional route.
Download a Kilimanjaro Planning Guide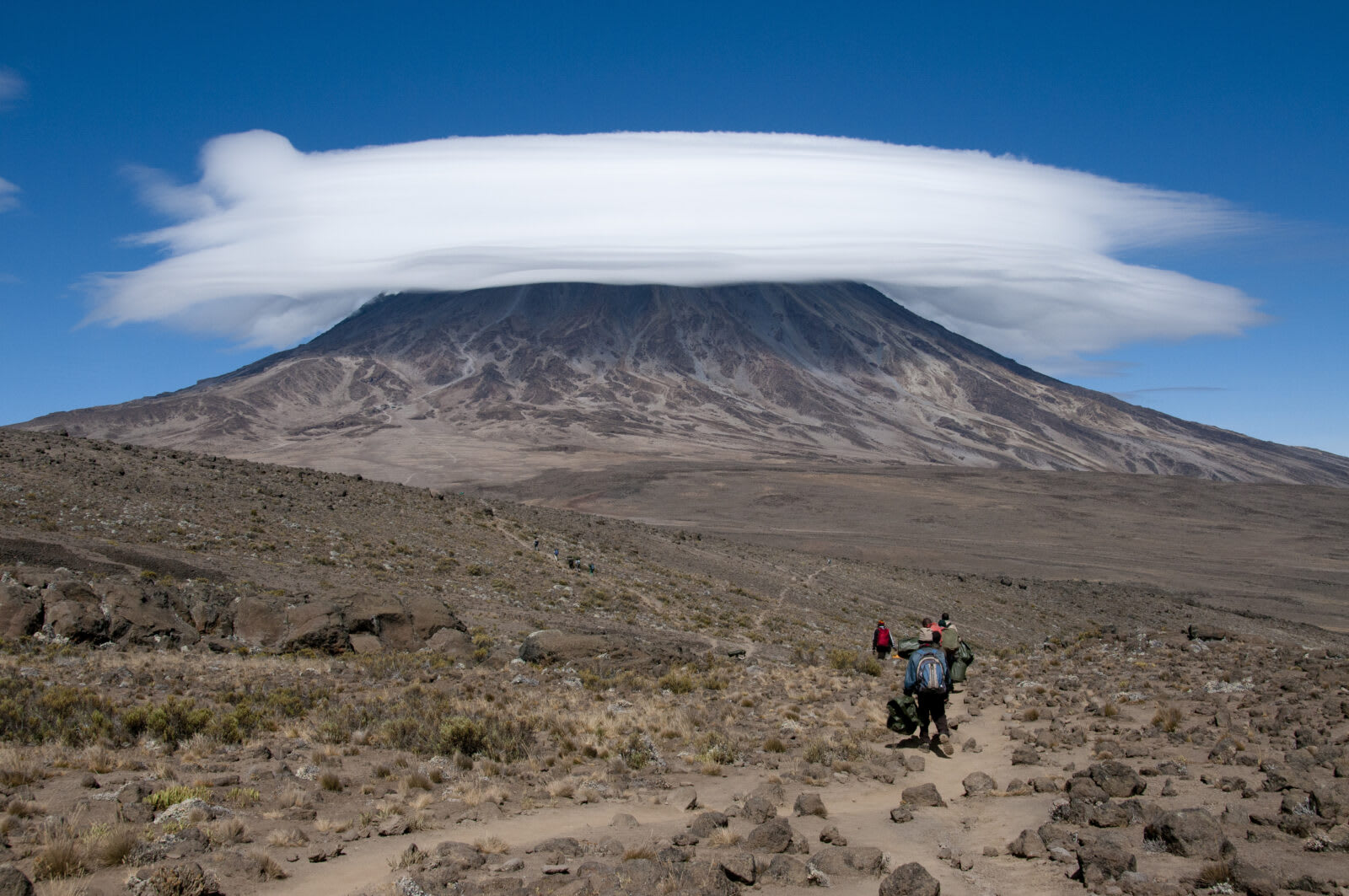 Trip Highlights
An exclusive 9-day corkscrew hike curling around multiples sides of the mountain
Capture unreal views of the north side of Kilimanjaro; an area only seen by a few
Itinerary
Day 1
Arrive Moshi
Welcome to Moshi- the more quaint, laid-back of the small towns sitting at the base of the famed Mount Kilimanjaro! Upon arrival in Kilimanjaro International airport you will be met by our Embark representatives, who will provide transportation to your hotel.
Day 2
Free in Moshi. Overnight in hotel
Group briefing and pre-trip discussion. You will be introduced to your trekking guide and have a comprehensive gear check. You are free to explore some more, take part in informal group tour around town; visit the market or a local coffee shop for lunch. Moshi is a relatively small, comfortable city that has a reputation for being somewhat laid-back compared to its sister city of Arusha, so feel free to wander. There will also be time to do last-minute shopping for the trek if needed.
Day 3
Nalemuru Gate to Simba Camp
Depart Moshi for a 2-hour drive around the north side of the mountain to the enchanting wooden village of Nalemuru. At the Nalemuru Gate you will complete national park entry formalities. Our hike today begins by winding out way through some village fields before entering pine forest. The path then starts to climb consistently, but gently, through attractive forest that shelters a variety of wildlife. As the forest begins to thin out we encounter our first camp at the edge of the moorland zone with extensive views over the Kenyan plains.
Day 4
Simba Camp to Third Cave Camp
Today's trek boasts one of the most beautiful views on Kilimanjaro's northwest slopes which includes Kibo Peak and the Eastern ice field. It's a fairly easy and straightforward trek with elevation gain a mere 1,600-ft/488-m, part of our well-planned climbing strategy to get you acclimatized for the higher elevation ahead. The morning walk is a steady ascent up to the Second Cave (3450m/11,319 ft) with superb views of Kibo and the Eastern ice field on the crater rim. We will have hot lunch at the Second Cave, then continue to Third Cave camp.
Day 5
Third Cave to Pofu Camp
Today we have a full-day trek ahead of us as we traverse the vacant western slope toward Pofu Camp. Slowly gaining just 260-ft/80-m, our trek leads us through the giant heather with Kibo Peak just up ahead on the left and the vast Shira Caldera down to your right. Shira was formerly one of Kilimanjaro's peaks until it erupted for the last time 500,000 years ago and collapsed in on itself. Now, instead of a deep caldera, there is a vast plateau filled with centuries of sediment.
Day 6
Pofu Camp to Moir Camp
Today is another day early in the climb where we increase our elevation minimally to help adjust to the altitude later in the trek. After a full day, we climb the Lent Group- a ridge on the northwest side of Kibo. We will drop down into Moir Camp, tucked away at the foot of a giant lava flow at the head of a deep canyon carved by an- cient glaciers. Alternate layers of lava and sediment tower over the lateral moraine on the edge of the valley. If weather cooperates, our evening will be speckled with lightning shows from down below.
Day 7
Moir Camp to Barranco Camp
After breakfast, we leave Moir camp and start the uphill trek into the alpine zone toward Lava Tower at 15,200-ft/4,633-m. At the foot of the 320-ft/98-m tower we stop for lunch, giving our bodies some time to acclimatize. Making the steep descent, we hike past the uniquely beautiful plant life in this unusual habitat, walking amongst the huge lobelias and whimsical senecios. Camp is situated at the foot of the famed Barranco Wall. There's a buzz of excitement as climbers from around the world anticipate the next morning's climb up this impressive natural obstacle.
Day 8
Barranco Camp to Karanga Camp
The Barranco Wall looms overhead, a sign that our adventure has reached the more challenging portion. Emerging from your tent you can't help focusing on the wall, contemplating its fortress-like structure. There it stands guard, blocking your highest goal, Uhuru Peak. but we've had plenty of acclimatization and we are ready for this challenge. Right after breakfast, we begin our scramble up the wall. It will take us about two hours to ascend about 500-ft/152-m up out of the valley, surrounded by dazzling views of ancient lava flows and towering peaks. Our day finishes with a steep, meandering hike catching views Kibo Peak over your left shoulder, and a welcome descent into Karanga Valley, followed by a not so welcome climb back up the other side to camp.
Day 9
Karanga Camp to Kosovo Camp
It's a tough, but a rewarding climb up the rocky, craggy slopes to Kosovo Camp. Because the camp is at high elevation, it is quite cold and windy at night. The air starts getting quite thin, and you find yourself breathing hard. There is a buzz of excitement in the air, as your climbing team anticipates day ahead, the most difficult yet. The clouds swirl quickly overhead, revealing the eroded Mawenzi Peak, rising from the plains below. In the afternoon, you gather around your guides for a detailed briefing of our climbing strategy for our summit day.
Day 10
Kosovo Camp to Summit to Millennium Camp
Very early in the morning (midnight to 2am), we begin our journey to the summit between the Rebmann and Ratzel glaciers. You head in a northwesterly direction and ascend through heavy scree towards Stella Point on the crater rim. This is the most mentally and physically challenging portion of the trek.
At Stella Point (18,600 ft), we will stop for a short rest and will be rewarded with the most magnificent sunrise you are ever likely to see. From Stella Point, you may encounter snow on the ground all the way on your 1-hour ascent to the summit. At Uhuru Peak, you have reached the highest point on Mount Kilimanjaro and the con- tinent of Africa. Faster hikers will see the sunrise from the summit.
From the top, we now make our descent continuing straight down to the Millennium camp site, stopping back at Barafu for lunch. You will want gaiters and trekking poles for the loose gravel on the descent. Later in the evening, we enjoy our last dinner on the mountain and a well-earned sleep.
Day 11
Millennium Camp to Mweka Park Gate
After breakfast, we continue the descent down to the Mweka Park Gate to receive your summit certificates. At lower elevations, it can be wet and muddy. Gaiters and trekking poles will help. Shorts and t-shirts will probably be plenty to wear (keep rain gear and warmer clothing handy).
Day 12
Departure
Departure for airport for international flight home or add-on safari (if participating in a safari; please make sure to book your international flight home in the evening).
Dates & Pricing
2023
Start
End
Double Occupancy
Sep 10

Sep 21

$3600 USD

Oct 1

Oct 13

$3600 USD
Let's book this trip!
Plan Your Adventure